"Be Brave, dear one. Be ye changed or be undone." Since I have several friends who are working with non-profits to raise awareness of this reality, and try to help prevent human trafficking, I decided this was a small thing I could do to help.  I've known the founders of Love146 for 10 years and I trust them.  I believe in their work.  So I thought for starters, I could make a tee shirt, a little prayer, a hopeful wish for those people who are trapped, to trust that change will come.
If you would like to purchase this shirt, please visit Ink In Bloom. All proceeds go directly to Love146.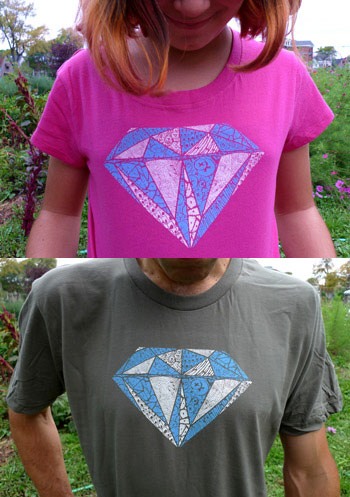 BUY T-SHIRT $15
BUY T-SHIRT & MP3 $20
My Brightest Diamond T-Shirt
Catalog: AKR085TSHI
We'll say it plainly: these are terrific t-shirts. Longtime My Brightest Diamond collaborator David Sitth designed the shirts, while Detroit-based Inkinbloom screen-printed them from their own home using non-polluting and biodegradable inks and emulsions.

Inkinbloom printed the womens' shirt on the Berry colored Bella B8101 (click here for info and sizing chart).

Tthe mens' is printed on a Lieutenant Green American Apparel shirt (here for those details and sizing chart).

Purchase the t-shirt and a full MP3 download of My Brightest Diamond's All Things Will Unwind for $20. MP3 delivered via email on October 18th, 2011.
Bring Me The Workhorse tee shirts
Drawing by DM Stith.
^^^^^^^^^^^^^^^^^^^^^^^^^^^^^^^^^^^^
^^^^^^^^^^^^^^^^^^^^^^^^^^^^^^^^^^^^
^^^^^^^^^^^^^^^^^^^^^^^^^^^^^^^^^^^^
^^^^^^^^^^^^^^^^^^^^^^^^^^^^^^^^^^^^
^^^^^^^^^^^^^^^^^^^^^^^^^^^^^^^^^^^^
^^^^^^^^^^^^^^^^^^^^^^^^^^^^^^^^^^^^
Bring Me The Workhorse cd release poster
^^^^^^^^^^^^^^^^^^^^^^^^^^^^^^^^^^^^
^^^^^^^^^^^^^^^^^^^^^^^^^^^^^^^^^^^^
^^^^^^^^^^^^^^^^^^^^^^^^^^^^^^^^^^^^
^^^^^^^^^^^^^^^^^^^^^^^^^^^^^^^^^^^^
^^^^^^^^^^^^^^^^^^^^^^^^^^^^^^^^^^^^
Yellow Bird Project charity tee for Road Recovery
^^^^^^^^^^^^^^^^^^^^^^^^^^^^^^^^^^^^
^^^^^^^^^^^^^^^^^^^^^^^^^^^^^^^^^^^^
^^^^^^^^^^^^^^^^^^^^^^^^^^^^^^^^^^^^
^^^^^^^^^^^^^^^^^^^^^^^^^^^^^^^^^^^^
^^^^^^^^^^^^^^^^^^^^^^^^^^^^^^^^^^^^
^^^^^^^^^^^^^^^^^^^^^^^^^^^^^^^^^^^^
^^^^^^^^^^^^^^^^^^^^^^^^^^^^^^^^^^^^