Here's what we did!  Whoever You Are – the mini marching band parade version!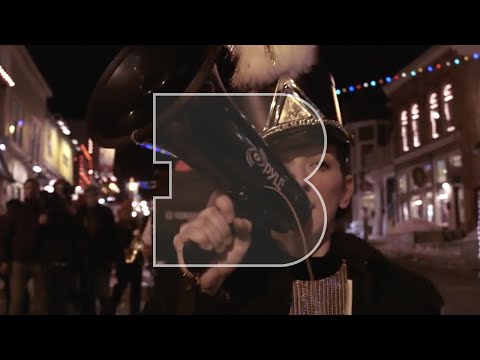 Happy holidays, dear ones!  I found this track in a drawer and I thought this is as good a time as ever to give you a present.  I hope you feel warm in your hearts, and that you know you are deeply loved, whether you are in someone's arms or whether you are alone this Christmas.  You are loved.
The latest offering by the Blind Boys of Alabama, which was produced by Justin Vernon, hits shelves today (October 1, 2013).  Shara had the distinct pleasure of singing the title track with these venerable gentlemen.  The song, "I'll Find A Way (To Carry It All)," was written by Detroit-native Ted Lucas.  Click through here for myriad buying options.  Also, check out the song's video below (and a short "making of" doc below that):
Related show
On Thursday July 25th, My Brightest Diamond is set to play an evening in celebration of Kronos Quartet's 40th birthday at the Damrosch Park Bandshell.  The event is free!
Ukrainian-born Mariana Sadovska finds fresh iterations of age-old Slavic melodies and aching traditional songs while accompanying herself on harmonium. She collaborates with Kronos Quartet in a "pagan requiem," exploring ideas of destruction and creation.
Emily Wells embraces hip-hop, gospel, symphonic flights of fancy, and quirky layered pop to create atmospheric, infectious songs with live loops of keys, strings, beats, and vocals.
Then My Brightest Diamond takes the stage with special guests Alex Sopp on flute, Hideaki Aomori on clarinets & saxophone, Michael Davis on trombone & CJ Camerieri on trumpet.
Then the following day, the band will hop on a plane to the Calgary Folk Festival.   Drummer Brian Wolfe & bassist Nathan Lithgow will be performing with Shara new songs meant for outdoor spaces.  Until such time, Shara is scouring dusty books for folk songs that she can prepare for ukelele jam sessions around the fireside circles.
Saturday, Jun 8, 2013 • 8:00pm
The Young New Yorkers' Chorus will be premiering a new choral work by Shara entitled The Pleiades. The 5 songs (Mother Maker, Seven Sisters, Gravity, How Many Stars Can You See & Circles) were inspired by a sculpture created by Roger Feldman.  Roger's piece, One, was constructed for Laity Lodge in Leakey, Texas at the same time that Shara was composing the songs.   Shara and Roger emailed photographs of the making of Threshold and mp3 demos back and forth.  We hope you can hear the premiere of this music this week and imagine yourself sitting in a circular sculpture in the middle of the quiet hill country and looking up at the stars.
Photo by Topher Aryhart
Young New Yorkers' Chorus
of St. Paul, 315 West 22nd Street, New York, NY.
We are being so lavishly hosted by Ellen at Het Huis Happaert here in Antwerpen, Belgium while we prepare for the giant undertaking, called You Us We All.  It really is a joy to return at the end of each day to such luxury and hospitality.  In fact, we're even planning a little preview of some of the material on Sunday night, as a little "house concert."  Feel free to stop by at 4pm.  You can view an invitation (in Dutch) here.
Greetings from Antwerpen, Belgium.  We've finally begun the rehearsals for YOU US WE ALL, the baroque opera that Shara is (still) composing.  Many thanks to deSingel International Arts Campus (one of our producing partners) for providing us with rehearsal space for the next 2 weeks and for hosting a couple of readings (please come!) on May 28 & 29.
Inspired by the elaborate 17th century court masques, YOU US WE ALL begins with ultimate theatrical extravagances: the music, costume and stage are rich with a contemporary baroque – exaggerated decorative flourishes, allegorical and historical references.  Everything is maximalist.  Even the language is a hyper-hybrid of Middle English and contemporary colloquialisms.
The work unfolds in a series of episodes in which the characters reflect on the meaning of their everyday existence.  As the characters LOVE, DEATH, HOPE and VIRTUE parade through the masque of their lives, TIME destroys everything.  Gradually facades are stripped away until, ultimately, the performers are without clothes, architectural context or linguistic flourishes.
music: Shara Worden
text, direction, design: Andrew Ondrejcak
performed by Shara Worden, Helga Davis, Bernhard Landauer, Loten Namling
with BOX – baroque orchestration X
This is a busy Spring in Shara-land!
Check out all of the goings-on by jumping to the Tour Dates page.  Amplified descriptions follow:
1) She will be performing 2 solo MBD sets at Rhthym n Blooms in Knoxville on April 5th.
2) She has just finished arranging new music for the marching band (Detroit Party Marching Band) that will be joining MBD for their gig in Detroit on April 10th as part of the Opening Night of Art X (a FREE event, which requires registration).
3) She will be singing with the Brooklyn Youth Chorus at MusicNow in Cincinnati on April 13th.
4) She will be undergoing surgery to replace the ACL and repair the meniscus in her left knee.
5) On May 12th, she will be singing David Lang's "death speaks" at the Barbican in London as part of their Nico Muhly extravaganza: A Scream and an Outrage.
6) Finally (and currently), she is knee-deep in composing the music for You Us We All, a baroque opera co-produced by deSingel International Arts Campus (Antwerp, Belgium) and the Hamburg International Summer Festival.  The libretto has been written by Andrew Ondrejcak, who will also be directing.  The performances will feature the instrumentalists of BOX Collective and vocalists Helga Davis, Bernhard Landauer, Loten Namling and, of course, Shara Worden.  Additional choreography and acting by Jessica Dessner.  Previews will be staged in the Theatre Studio at deSingel on May 28 & 29.
Penelope goes West Coast!
For those in the Portland, OR area, FearNoMusic presents Sarah Kirkland Snider's acclaimed song cycle, Penelope, with Shara Worden at The Alberta Rose Theater on February 2, 2013 at 7:30 pm.
A New Sounds Live Presentation hosted by WNYC's John Schaefer
Shara has been busy punching piano keys, learning new music for the concert at Merkin Hall on Feb. 6th.  She sings 9 new songs by Sarah Kirkland Snider & 3 new jams with Clogs (singing very high notes! oh my!), as well as 3 brand new My Brightest Diamond songs arranged for orchestra.  Here's more details:
Sarah Kirkland Snider presents her new work for seven vocalists and chamber orchestra,Unremembered, a 13-song cycle set to poetry (and with accompanying projected artwork) by New-York-based poet/writer Nathaniel Bellows, featuring vocal performances by DM Stith, Shara Worden andPadma Newsome. A cycle about memory, innocence and the ways we cope with an unpredictable world, the poems recall strange and beautiful happenings experienced during a childhood in rural Massachusetts.
Newsome will also appear with Clogs, the legendary hybrid band/chamber ensemble whose latest album was called "one of the most evocative and appealing records of the year, in any genre" (NPR).
Orchestra for the Next Century, directed by Gary Schneider, will present Snider's work along with new works and arrangements by Newsome, Worden and Stith.
(Please note it's an "upper west side start time" ya'll!  7:30 p.m.)
My Brightest Diamond will be performing on January 23rd at The Bowery Ballroom in New York City. Come expecting a parade, new songs, marching, dancing, party hats, bells and whistles!!!
Tickets are here.
Brooklyn Rider, with special guests Gabriel Kahane and Shara Worden
When: Friday, November 16, 2012 – 8:00 PM
In the spirit of the Modernist motto "Make It New!", the brilliant string quartet Brooklyn Rider returns to Chapel Hill with a carefully curated evening of music.
The program reflects on the influence of the great 20th century Modernists Igor Stravinsky and Béla Bartók, and features new works including world premieres composed by Colin Jacobsen, Shara Worden and John Zorn, and a recent new work by Gabriel Kahane.
Hailed as one of the most exciting and unconventional musical groups today, Brooklyn Rider explores the creative possibilities of the present through the lens of the historical quartet tradition and reimagines the string quartet as a vital 21st century ensemble.
Program
Stravinsky              Three Pieces for String Quartet (1914, rev. 1918)
Bartók                    String Quartet No. 2, Sz. 67 (1915-17)
John Zorn               The Alchemist (2011)
Gabriel Kahane       The Fiction Issue (2012) with Shara Worden
Colin Jacobsen        Chalk and Soot, with Shara Worden with choreography by John Heginbotham  (2012)*
Shara Worden         Disconnect, Delay, Lean and Release, with choreography by John Heginbotham  (2012)*
*Commissioned by Carolina Performing Arts
Classical music performances are made possible by The William R. Kenan, Jr. Charitable Trust. We thank the Trustees for their visionary generosity and for encouraging others to support Carolina Performing Arts.
KINGS OF MACEDONIA
Shara has written the music for The Kings of Macedonia, a play by Andrew Ondrejcak.  The compositions include  brass quartet (featuring the amazing CJ Camerieri of yMusic), drums (the amazing Ted Poor) & choir (the amazing Khorikos).  Shara will also be acting & singing in the role of The Whore.  Other special guests include singer Helga Davis (Einstein on the Beach) and Tunde Adebimpe (TV on the Radio).
The play will be presented at The Prelude Festival in New York on October 4th at 8pm.  It's a FREE show!
Conceived as a modern telling of "The Canterbury Tales," the "Kings of Macedonia" is a collection of moments from everyday life, in which ten characters search for meaning while en route to destinations they cannot quite pinpoint. Individually, they reflect on their own aptitude for inciting meaning within their lives and the lives of others; collectively, they look to the impulses within (and the vast unknown above) in the search for something, anything, to hold onto.
This Thursday, August 23rd, Shara will be performing a solo concert from 6:30-7:30 p.m. in the garden of the MOMA in New York.  This is concert is included with the price of admission to the museum!  Come dressed as your favorite sculpture.  Shara will be working in black and white themes in keeping with the colors of the marbled garden.
In other news, we are really excited to play on  "Soundcheck" with host John Schaefer on WNYC, this Friday at 2:30.  Brian Wolfe will be on drums, along with Chris Tarry on bass, and the chamber ensemble yMusic!
Shara talks about Talk Talk in this new limited edition book. Pre-order that shizzle.
In other news, we are coming to Italy & France next week!  So we hope to see you there!
This Saturday, April 21st is Record Store Day!  To celebrate, we are releasing 'I Have Never Loved Someone' 7″ in stores.  The a side features 'I Have Never Loved Someone' recorded with Shara playing electric guitar.  This version was inspired by the blogotheque video she recorded back in August.  The b side is a version of Leonard Cohen's song 'Bird on a Wire' which Shara recorded with the amazing guitarist, Marc Ribot.
After Record Store Day, it will be available online. You can buy direct from the label, see nowherefastrecords.